AFFORDABLE

PRICES

FRIENDLY

& TIDY

WORK

GUARANTEED

LATEST

TECHNOLOGY

​​ARE YOU LOOKING FOR A HIGH QUALITY SANDING COMPANY IN ANERLEY, SE20?
One that offers the best levels of service, and is a member of both the Guild of Master Craftsmen and the National Wood Flooring Association? Then you just might have come to the right place.We're the Anerley Floor Sanding Company. For nearly 20 years we've worked with customers across the UK to help bring their wooden floors back to as-new condition. Whether you've got a floor full of boards that need replacing, or you've accidentally managed to carve a scratch into one of the panels, we can help.
OUR ETHOS
We focus, above all, on excellent customer service. Yes, we're fully qualified, but that skill and experience is combined with a genuine passion for helping our customers to achieve the results that they deserve. Every aspect of our process is designed with our customers in mind, from our free, no-obligation initial consultation to the free specialist wood floor cleaning set that we provide at the end of every job we complete.
A REAL PASSION FOR THE JOB
All of our employees feel strongly about obtaining genuinely stunning results. Our onsite technicians are craftsmen who possess a passion for their work that we believe is almost unrivalled. They take real pride in seeing a wooden floor that's been pristinely restored, using only the most cutting-edge dust free sanders and the range of eco-friendly finishes that enable us to add that last magic touch.
We've carried out work for a wide variety of different customers, from everyday homeowners to schools to offices. There are hundreds of people in the UK who've already obtained the results that they deserve. (If you'd like proof of that, check out our Testimonials page. Need examples? Then head over to our Gallery, which offers a number of different before and after shots of completed projects.
GET IN TOUCH TODAY
If you're in the Anerley area and would like to find out more about our free, no-obligation consultation, give us a call today on 020 3151 7950. Alternatively, use our online contact form to book a visit from our expert assessor today.
LATEST NEWS, RECOMMENDED ARTICLES & TIPS
How to sand your floor in 5 easy steps
Sanding your floorboards needn't be a difficult job if you're well prepared and know your equipment. In fact, getting a great finish can be achieved in just five easy steps.

1. Prepare your floor

• Nail punch
• Hammer

You'll need to check the floor for any protruding nails that can rip the sandpaper. Use a hole punch to drive them into the wood by at least 3mm as that's roughly the amount of wood you'll sand off the surface of each board. For a really neat finish, prise off the skirting boards so you can sand right to the edge of the room.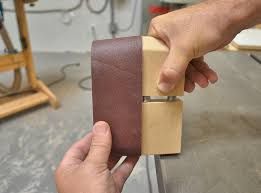 2. Install a sandpaper belt

• 40, 60, 80, 120 grit sandpaper
• Drum sander

Lay the drum sander on its side, lift up the drum cover and slide on a sanding belt. If you're having difficulty, then a handful of sawdust rubbed over the drum can help the belt slide on more easily. If your floor is badly damaged, start with a 40 grit sandpaper, otherwise use a 60 or 80 grit for the first pass to remove the old finish from the floor. Finish with a fine 120 grit for a smooth, swirl free result.

3. Floor sanding

Never start the sander with the drum in contact with the floor as you'll create a divot that can't be fixed. Instead make sure the sander is switched on before activating the lever that drops the drum in contact with the floor. It's important you keep moving in the direction of the grain, using an even and gradual pace and letting the sander do all the work: in this way you'll create a smooth and even finish. As you reach the end of a row, use the lever to raise the drum off the floor before turning the sander to complete the next row.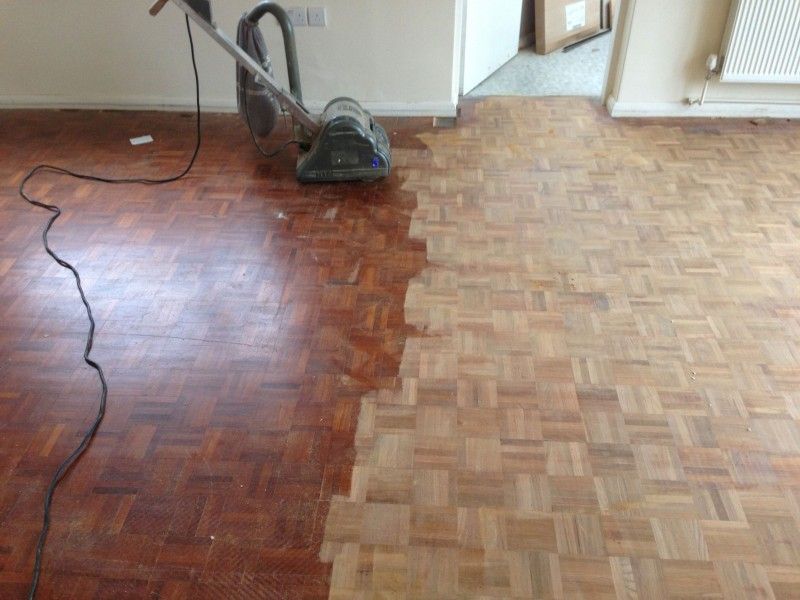 4. Use the edging sander

• Edging sander
• Sandpaper

Now use the edging sander to strip off the finish around the edges of the room - if you've removed the skirting board you'll be able to sand right to the edge for a neater finish. Use the same grit of sandpaper as with the drum sander and always keep the rotary edging sander in motion when it's in contact with the floor.

5. Use a corner scraper

Finally, to remove any finish left by the drum or rotary floor sander use a corner scraper or detail sander, using an even and gradual motion, to finish the job. Follow these five steps and your floor should now be beautifully smooth and even and ready for finishing.
For Gorgeous Wooden Floors Call 020 3151 7950 Now